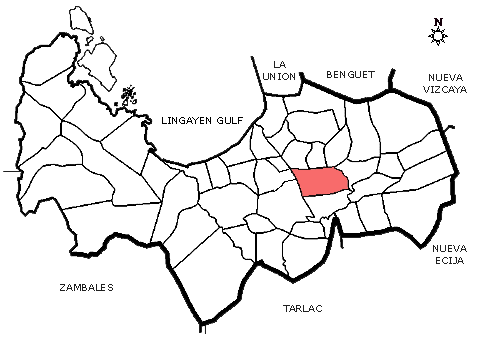 Urdaneta : Father Simon de Urdaneta(?)
One hundred twelve years ago, January 8, 1858 to be exact, in the near eastern part of Pangasinan, a municipality was born. History has not been clear on how her name came about. The name links her to that famous aide of Magellan, Father Simon de Urdaneta, soldier, navigator, cosmographer and evangelist, after whom she has been named.
It is not surprising that she was named after Father Urdaneta because it was another priest who helped found her, Father Nicolas Manrique Alonzo with the help of hardy pioneers from the Ilocos provinces. The beginning was the clearing of a vast forest that was Urdaneta then followed by the erection of the Urdaneta Roman Catholic church and convent. The fruition of such bold undertaking of both ministers of faith and the settlers was a flourishing village organized into a town under the headship of Don Tomas Manzano in 1837, who was designated Capitan. The seat of government which is better known by its present-day English equivalent as "tribunal" was the old convent. And Urdaneta was launched as a town.
The inception of the town brought forth its final inauguration as a municipality the following year, with its own town hall, the Capitan Municipal, Don Florentino Benito. Capitan Benito was followed by an impressive array of local historical greats as Capitan, with Don Ignacio Fangon as the last of the Capitanes. At the turn of the century with the American Occupation, the American concept of government was introduced - elective municipal executives took over the reins of the town one after the other as Municipal Presidents. The first Municipal President was Don Benito Belmonte.
With the start of moves for self-government for the country, and the passage of the Tydings-McDuffie law by the United States congress, the era of Municipal Presidents, which coincided with the conclusion of the term of Atty. Wilfredo G. Ambrosio in 1936, ended to give way to the Municipal Mayors. So it was that the Philippine Commonwealth was born, and with it came Urdaneta's first municipal mayor, Don Patricio Abenojar, who also wound up the terms of municipal mayors under the Commonwealth and opened a period of municipal mayors under the Republic, in 1946.
Today, Urdaneta City serves as the commercial center of eastern Pangasinan. It became a city in 1997 by virtue of RA 8480.#
Status (As of Year 2000)

Population

Population Growth Rate

No. Of Households

Income Classification

Land Area (Hectare)

No. of Barangays

111,558

2.31

22,908

1st Class

12,100

34